Our in-shop offers are aimed exclusively at merchants, traders, freelancers and legal entities under public law. These items are not for sale to consumers. Are you a reseller? register now
Wireless music transmitter CORE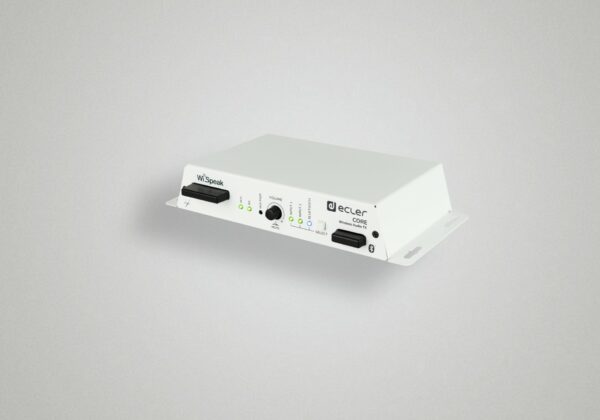 The heart of this system, which is constructed from only a small number of components, is the Core transmitter unit. At the touch of a button, it establishes a permanent wireless connection with the Tube and Cube loudspeakers. Up to 24 receiver units can be controlled from one transmitter. With a range to the receiver of 12 meters in open space, the transmitter can cover a total distance of 24 meters. If longer distances need to be spanned or the signal has to be transmitted through walls, additional transmitters can be connected by cables to existing receivers. These additional core transmitters take the signal from the loudspeaker they are connected to and pass it on to a further 24 devices, with virtually zero latency. This allows sound to be transmitted across even quite long distances without interruption.
Two separate channels are available for combining the two receiver units, Tube and Cube, within one transmitter. This allows both models to be adjusted according to their specific sound characteristics.
Computers, tablets, and other audio players can be used as the audio sources, via cable or Bluetooth. The Core transmitter constantly monitors the stable wireless connection to the speakers, and changes the channel automatically if the frequency is disrupted. For individual control, the user can choose between three input channels and set the desired volume, either on the base station or via the associated app. The feature-rich app also allows customized sound tuning, and works on both iOS and Android devices.
536.00 €
delivery time: upon request
Inputs
IN1: balanced, stereo, Euroblock
IN2: unbalanced, stereo, RCA BT: Bluetooth wireless
Outputs
CH 1&2: digital, mono, RF wireless audio / AUX OUT: analog, mono, balanced, Euroblock
Power consumption
0.5 A @ 24 V
Channels:
WiSpeak CH1 / CH2
Frequency range
IN1: 10 Hz–20 kHz (-1 dB)
IN2: 10 Hz–20 kHz (-1 dB)
BT: 10 Hz–20 kHz (-1 dB)
Output resolution
24 bit AD/DA conversion
Bluetooth®
Bluetooth 5.0, class 1, range 25 m (ideal conditions)
Communication standard
RF wireless audio
Control options
front panel, WiSpeak grip, WPa-VOL remote control
Features
MUTE, remote control connection
Tone control
BASS: 100 Hz, ± 10 dB, MID: 1.2 kHz, ± 10 dB
TREBLE: 10 kHz, ± 10 dB o
Input power
100–240 AC; 50–60 Hz
Dimensions (without accessories)
225 × 120 × 40 mm (W × H × D)
Weight
0.8 kg
Latency
< 6 ms | Remote control: WiSpeak grip app / WPa-VOL (optional)